Having a party soon? Want to surprise your hungry friends with something special, something that contains enough protein for an entire battalion of hungry metal-lovers? Look no further, because our killer meat-cake is just what you need! This monstrous tower consists of three thick layers of protein, each made of different meat mixed with some of our other favourite ingredients such as onions, eggs and mushrooms, then covered in a protective layer of potato starch, to be finally baked in the fires of Hell. Sometimes, a simple oven will do the job as well.
It was one of our most ambitious experiment and although we had some doubts (apart from looking epic, will it also be edible?), we have to say that the end result turned out to be phenomenal in every aspects. So we can share the recipe with confidence. Here you go.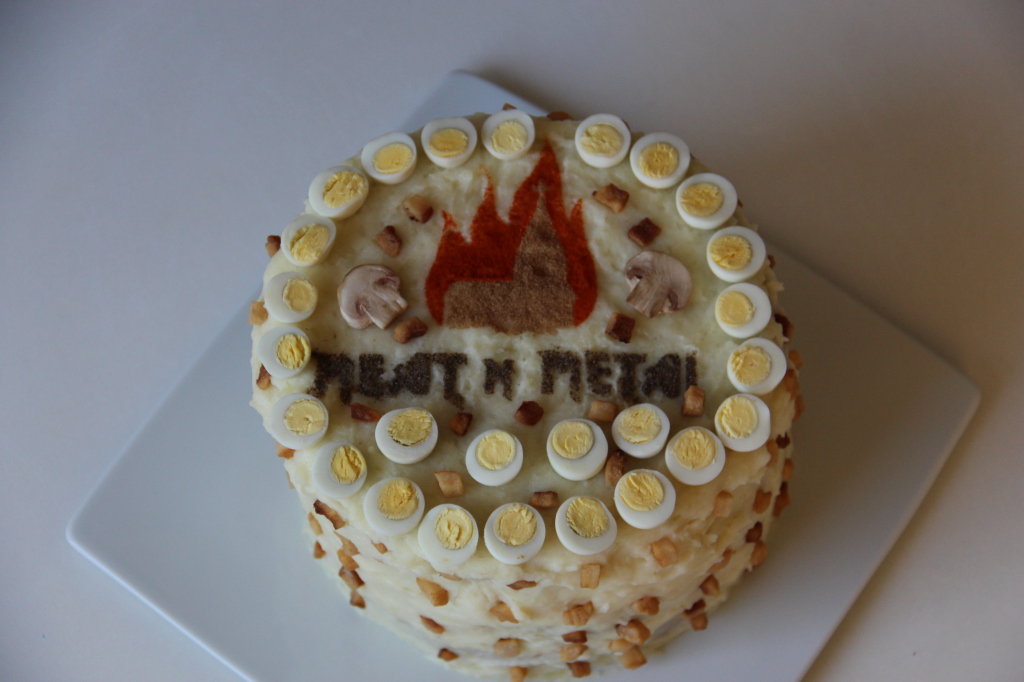 We will list the ingredients separately for each element of the tower. Feel free to build your layers in any order you want!
Pork layer
1 kg thin minced pork
2 eggs
3 spoon bread crumbs
some soaked bread (~1 slice)
1 onion
1 clove garlic
parsley
salt
black pepper
To top we wanted to put a little more tender layer so the pork with some bread sounded good. After chopping the onion and the garlic we mixed everything in a bowl and put it in one of the 3 same sized oiled baking dish.
Beef layer
1 kg minced beef
1 onion
1 egg
2 spoon bread crumbs
1 clove garlic
salt
black pepper
This was a meat cake, so a surfeit layer must had been there. A nice, hamburger-like beef patty proved to be a good idea. We mixed it together just like the pork patty and put it in the next oiled baking dish.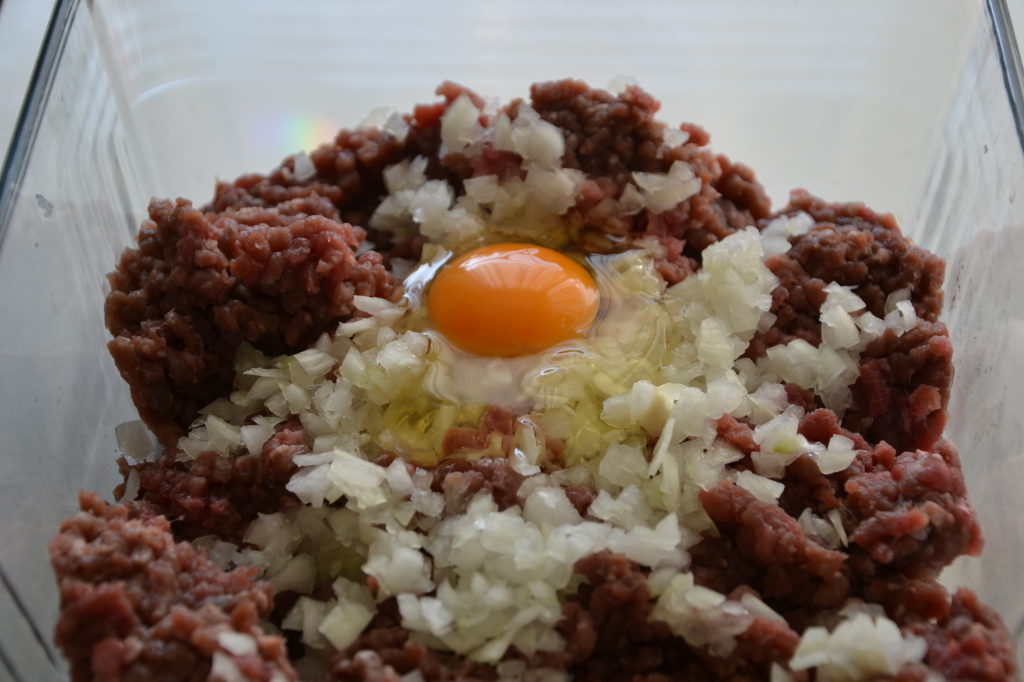 Turkey layer
0,5 kg minced turkey
0,25 kg mushroom
3 spoon bread crumbs
some soaked bread (~2 slices)
half onion
1 clove garlic
salt
black pepper
A poultry meat and mushroom mix was the bottom layer. We chopped the onion and the mushrooms, and put the onion on fire in a pan with some oil. After 5 minutes it was time to add the mushrooms, salt and some pepper. We covered it and cooked for 20 minutes. When it was ready we cooled it down and mixed it with the meat, bread, garlic some more salt and pepper, but we did not add more onion to it. It was ready to put it in the last oiled baking dish.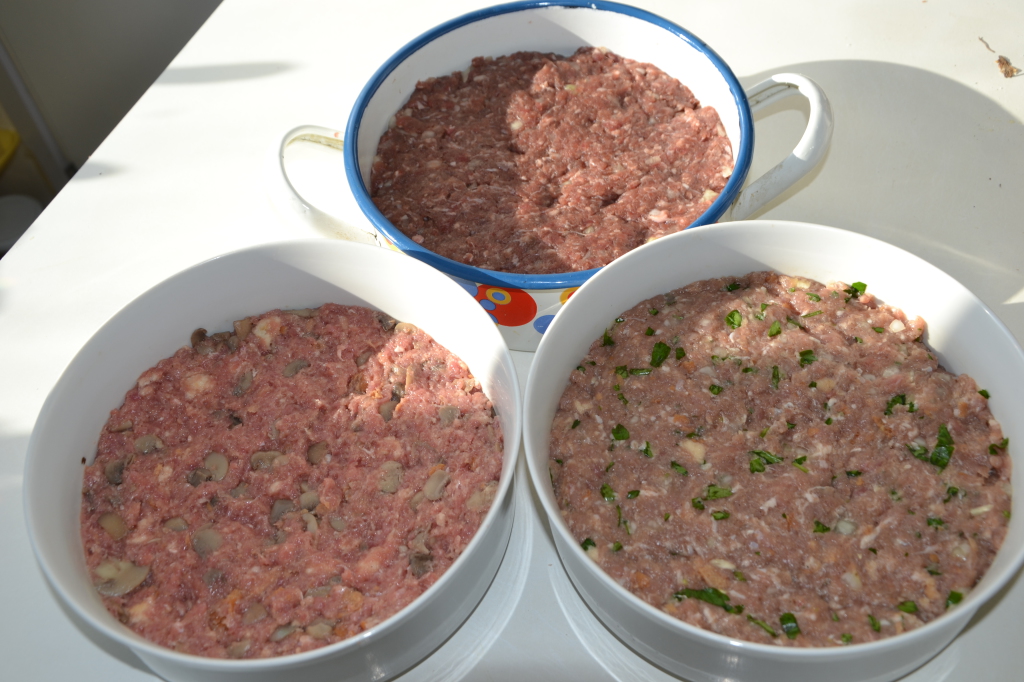 Baking the patties
Fortunately the oven was big enough to cram all the 3 dishes. We put them in on 200 degrees, mixing them order in every 20 minutes. The turkey layer need 1 hour 40 minutes to get ready, the beef and the pork needed 2 hours. The pork and beef patty were about 5 centimeters high, turkey patty was a little big lower because it has been made of less meat.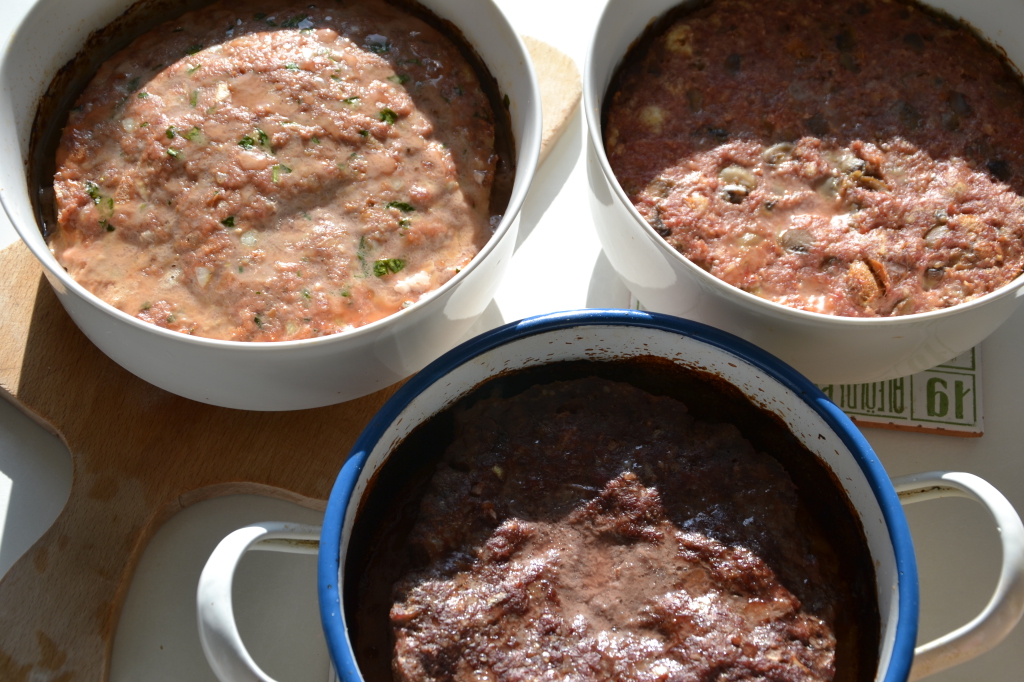 When all of the patties were ready we built the meat tower, tried the layers to each other. Some correction has to be done with knife to make it flat. Of course a meat cake needs some filling just like the sweet one, so here is what we used:
Fillings
10 dkg cheddar and 10 dkg smoked cheese
3 dl sour cream
half onion
2 cloves garlic
salt
mustard
gravy
black pepper
To a cake like this we offer 2 fillings. To the first one we grated the onions and mixed it with sour cream and salt. To the second one we created a fast mustard and black pepper sauce. Both was delicious!
It was time to put together everything. We put the turkey layer in a large baking dish. On it, 4 or 5 spoons of sour cream souce and the grated cheddar has been layed. Next came the beef patty – we put it carefully on top of the cheddar and covered it with the mustard sauce and with the smoked cheese.
It took the cheddar 20 minutes on 200 degrees to slightly melt.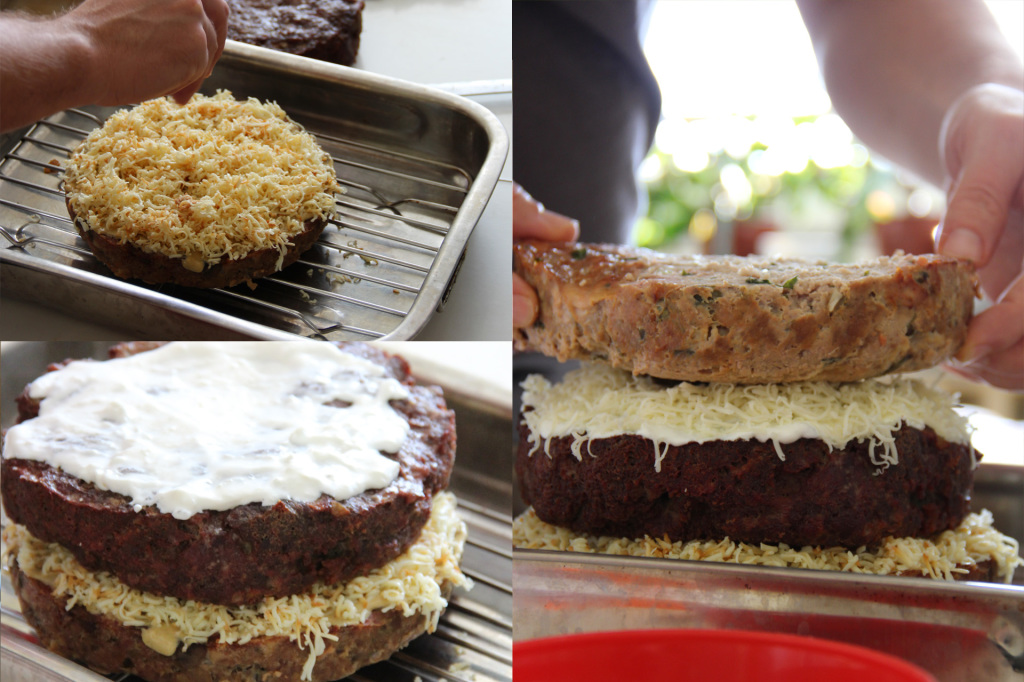 Covering the cake
1,5 kg potatoes
~1,5 dl milk
margarine
salt
This cake's cover is made from mashed potatoes. It is easy to make, we just peeled to potatoes, cooked them for 15 minutes, mashed it and mixed it with milk and margarine. We mixed it a little bit with a hand blender, but we had to be careful with it because not only it became smooth and homogenous but also a little sticky which made it hard to cover the meat. However, it was not impossible and the result as you can see was more than satisfying.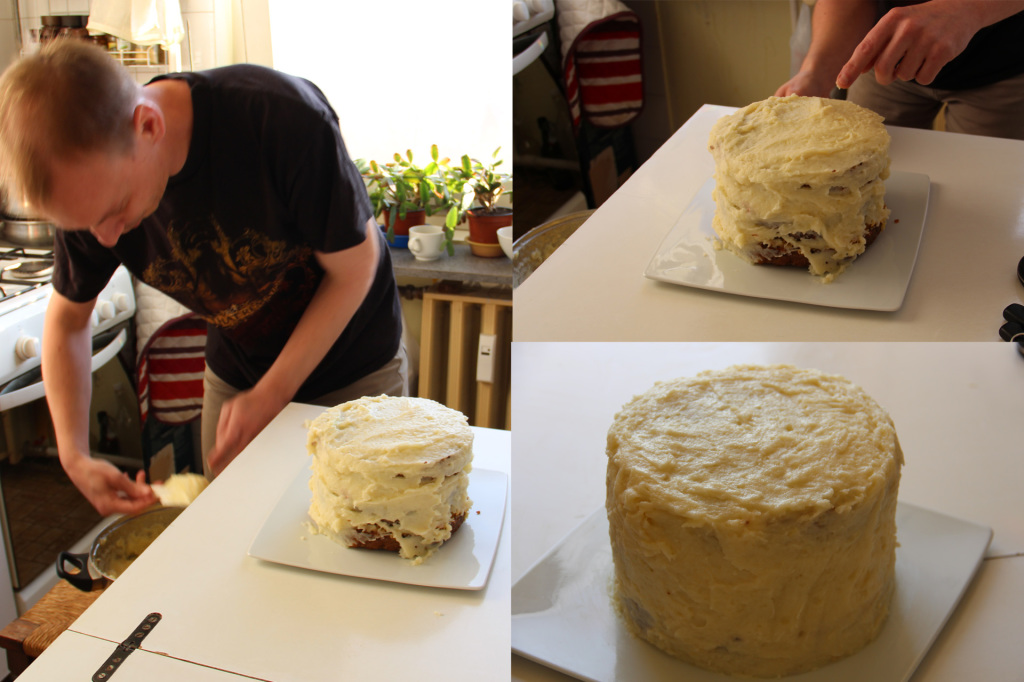 Decoration
25 dkg smoked lard
15 quail eggs
black pepper
paprika powder
ground cumin
For decoration we cut 25 dkg of smoked bacon to small cubes and fried them, then we cooked the quail eggs for 10 minutes. The smoked bacon cubes has been placed on the side of this gorgeous cake, and the eggs on the top. On the top we also placed the fucking awesome logo and as a salute to true Norwegian black metal: a burning church. It was a time-consuming job to cut out the shapes from paper, but as you can see on the result, it was worth it. We used black pepper for the logo, cumin for the church and paprika powder for the flames.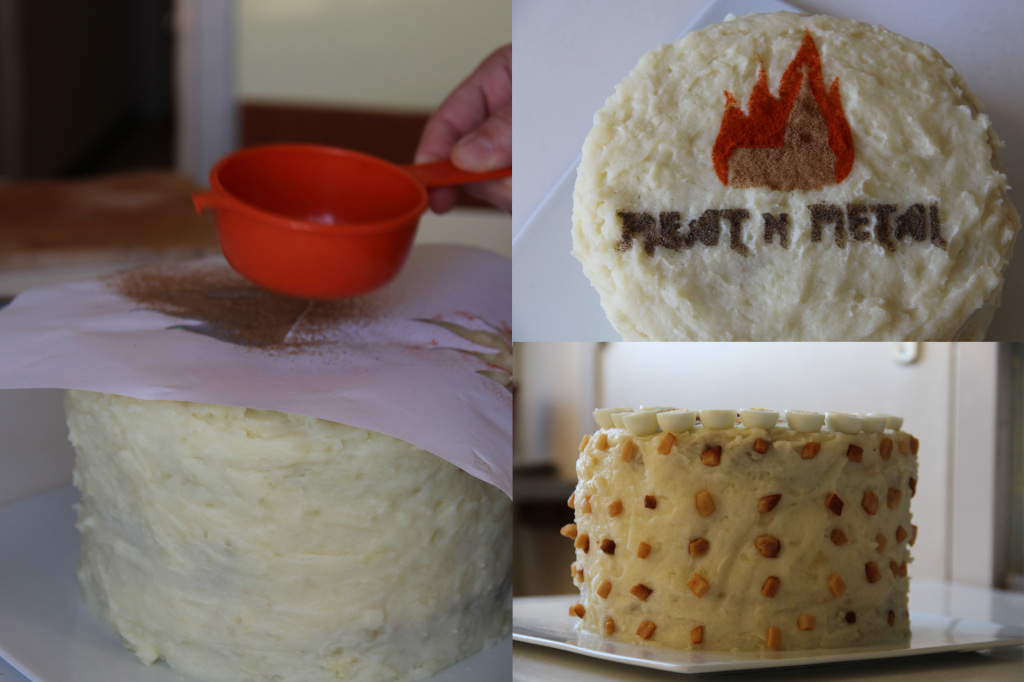 The result was a beautiful, 20 cm wide, 20 cm high meatloaf cake. It was enough to feed 10 of us, and a quarter of it still remained for the following day. As we mentioned, our expectations were rather reserved when it came to the taste, but it actually highly surpassed even our most optimistic expectations.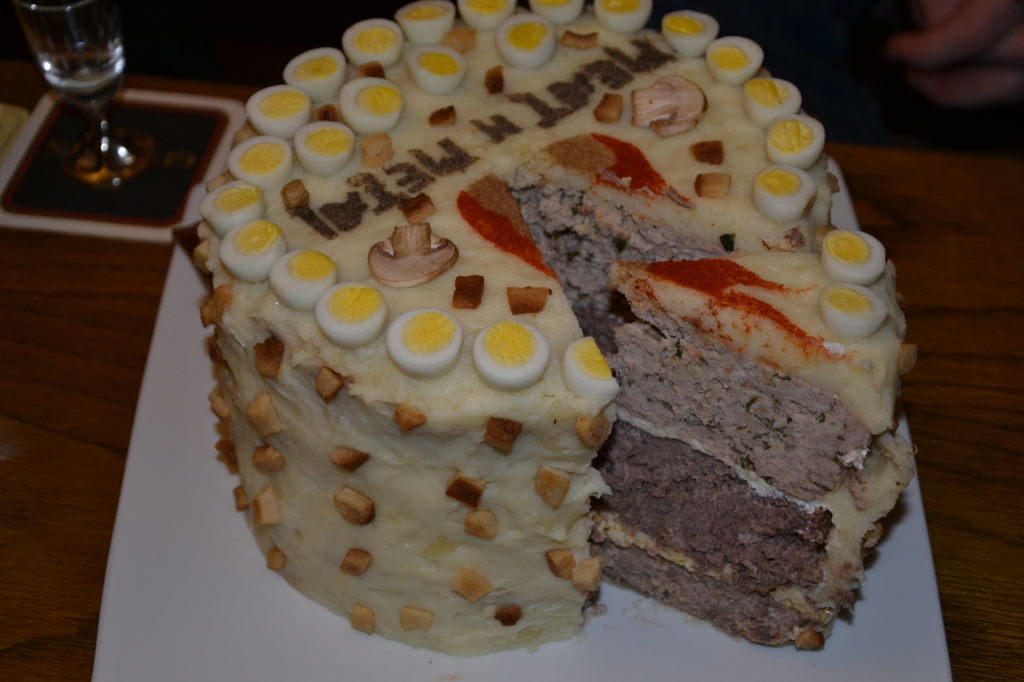 Despite the decoration of this meaty masterpiece, this time we skipped those recurring unholy scandinavian black metal bands and we choose an inland horde from the next town. Mörbid Carnage released two studio albums so far, and both of them are amongst our favourite Hungarian thrash metal acts ever.
Fun fact: apparently Google Music All Access categorised them as pop.